President Trump signed the LEGION Act of 2019, on July 30, greatly expanding membership for the American Legion eligibility, thus enabling the American Legion to extend benefits to an extra 6 million vets.
The legislation was introduced by Democrat, Arizona Sen. Kyrsten Sinema, and the law was co-sponsored by Republican, Sen. Thom Tillis of North Carolina. LEGION, which is an acronym for Let Everyone Get Involved in Opportunities for National Service, will now include membership for those veterans with an honorable discharge from the armed services who served between recognized periods of war.
President @realDonaldTrump has signed the LEGION Act, allowing the @AmericanLegion to extend benefits to 6 million additional veterans! pic.twitter.com/nFElewmWGv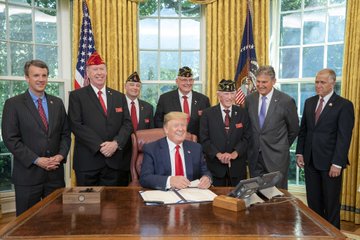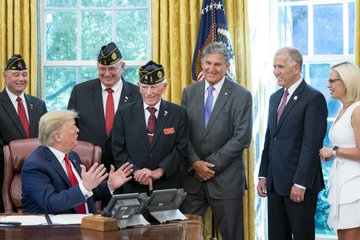 — The White House (@WhiteHouse) August 10, 2019
Nick Cabral, commander of Newtown based American Legion Post 202, said the act is "a wonderful opportunity for approximately 6 million veterans, who were previously not eligible to access American Legion programs and benefits.
"No longer are Cold War era veterans excluded, veterans who put on the uniform and served their country just like every other military veteran in American history," he said. "I'm excited for the opportunity to meet and work with more service veterans from the Newtown area and have their support for our local programs." 
The ink had hardly dried on the LEGION Act when Maryland vet George Smith joined as a member. "I think it's great," Smith said, reported Military.com. "It's something I've been looking forward to for a long, long time. My wife's been looking forward to it. A lot of my friends have been looking forward to it, too."
Smith, who served in the Marine Corps for seven years, said he had been waiting to join the American Legion for 30 years.
To qualify for membership before the president signed the new law, members had to have served at least one day of active military duty during one of six specified time frames, which included World War II, the Vietnam War, and the Korean War.
The LEGION Act now includes another 12 war eras previously excluded, including Cold War, the China Cold War and the Greek Civil War.
What the act means, any serviceman or servicewoman who served after Dec. 7, 1941, is now eligible for American Legion membership.
Smith wasn't eligible for membership previously, as he began his military career just after the Vietnam War ended in 1975, and was honorably discharged before the war in Lebanon-Grenada in 1982.