TOKYO (AP) — Naomi Osaka showed how deep her Japanese roots run: She went to watch Japan's national sport of sumo and said she liked it.
Osaka is in Tokyo this week to play in the Pan Pacific Open, just a week after she won the U.S. Open to become the first Japanese woman to win a Grand Slam singles title.
Osaka was born in Japan to a Haitian father and Japanese mother. She has spent most of her life in the United States and lives in Florida, but is sure to represent Japan at the 2020 Tokyo Olympics.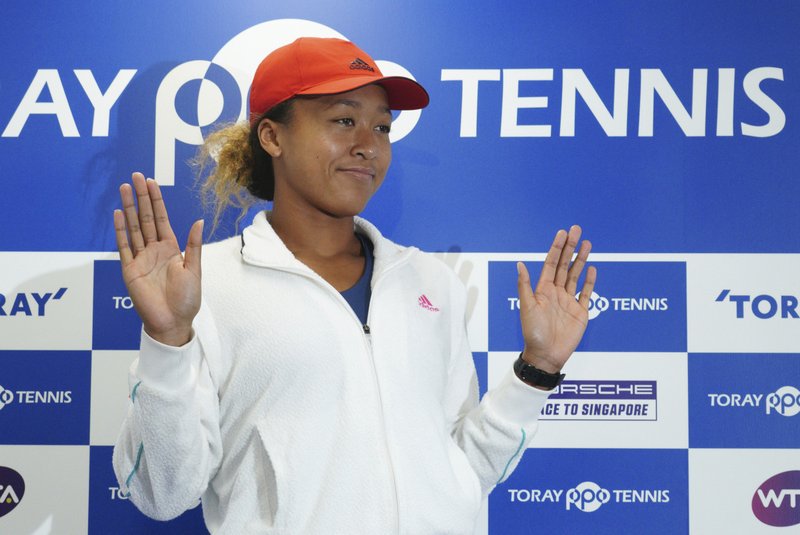 "I thought it was really cool because they're so flexible and they're also very strong," Osaka said Monday at the Pan Pacific Open. "During one match, he kept slapping the other guy. So I thought it was really fun to watch."
Osaka is seeded third in Tokyo and had a bye in the first round. She is the subject of intense interest by Japanese reporters.
She fields questions in English but understands most questions posed to her in Japanese.
Two years ago she lost in the final to Caroline Wozniacki, who is the top-seeded player this year.
"I've played a lot more matches between then and now," Osaka said. "And I think it even shows that I'm a little bit more mature now. So, I mean of course having experience helps."
She also added that "being more confident in yourself" also helps.
Osaka is suddenly on track to become one of the highest earning female athletes on earth, taking advantage of roots in Asia, deep-pocketed Japanese companies, and a down-to-earth manner that makes her quickly likable.
Last week, Osaka signed a three-year contract with Japanese carmaker Nissan — no financial details were offered — and she is reportedly close to landing a large deal with Adidas, perhaps in the range of $10 million.
The U.S. Open title was worth $3.8 million in prize money.
Osaka also has deals with Japanese sporting goods company Yonex, noodle maker Nissin Foods, Citizen Watch and Japanese satellite broadcaster Wowow.
___
Source: The Associated Press
See also: The biggest secret of China regime throughout last 19 years