May 13th, 2019 marks the 27th anniversary of Falun Dafa's public introduction. Originated in China, a peaceful body, mind, and spiritual practice has become popular in more than 100 countries and regions.
Also called Falun Gong, the practice was first introduced to the public in 1992 by its founder Mr. Li Hongzhi. In its homeland, Falun Gong has been quickly embraced by over a hundred million people from all walks of life. The practice is claimed to have brought about drastic physical and spiritual benefits to its followers. Moreover, it has significantly contributed to the improvement of morality and thus, social order.
China before 1999…
During the years leading up to 1998, in a small village in Heyuan City, the Agriculture Committee planted an orchard of more than 160 acres. During the harvest, almost every village household would steal the fruits from the orchard to sell them at the market. In order to prevent this situation, officials often caught the thieves and exposed them around the village, however, this punishment was almost entirely ineffective.
It was not until 1998 when Falun Dafa spread to this small village of 300 people and roughly 80 people began to cultivate the practice, that the stealing began to stop. The change seen in the select group of people practicing Falun Dafa had an unprecedented effect on the other people of the village. From then on, the villagers no longer stole the orchard harvest.
That winter, village officials sent delegates to Guangzhou to attend the Falun Dafa Experience Sharing Conference to narrate the change in their thinking and in the running of their village.
"Falun Dafa practitioners in Guangzhou did not know about the rationale, assuming that the commonly-owned things could be taken. If one did not take, others would. Now, they know the rationale, 'No loss, no gain, to gain, one must lose first'.
A government official in Zhejiang was deeply moved and said,
"Falun Gong is really good; it can impose an impact that the law cannot. I also have to buy your book to read."
In 1999, the New York Times reported, Li Qihua, an influential retired general in the Chinese People's Liberation Army, who joined the state army when he was 10 years old, wrote an article to advise people to have a good view of this practice, "Try to practice Falun Gong seriously, because it will help improve your physical and mental health".
New image in the US
In 1996, Mr. Li Hongzhi, the founder of Falun Dafa, came to the United States to organize the first Falun Gong class. In 1999, some medical researchers conducted a survey of Falun Gong practitioners by sending practitioners interview questions via email. Of 235 participants surveyed, 202 were Americans, 32 Canadians and 1 from another country. The result showed that out of the 18 people claiming to have smoked before cultivating Falun Dafa, all of them quit after starting their cultivation practice, with an average period of quitting smoking being 4.58 days. 103 practitioners drank alcohol before cultivating, 100 of them quit drinking after beginning their cultivation; 2 people drank 2-3 times less a day, and 1 did not answer.
Before the 2000s, it was hard to find Americans that lead a busy lifestyle gathering in groups to meditate quietly in parks. However, today, this is commonly seen in the US, and this is due to Falun Dafa. According to a report, across the 50 states of the United States, there are 21 states with Falun Gong practice sites available to anyone in the parks.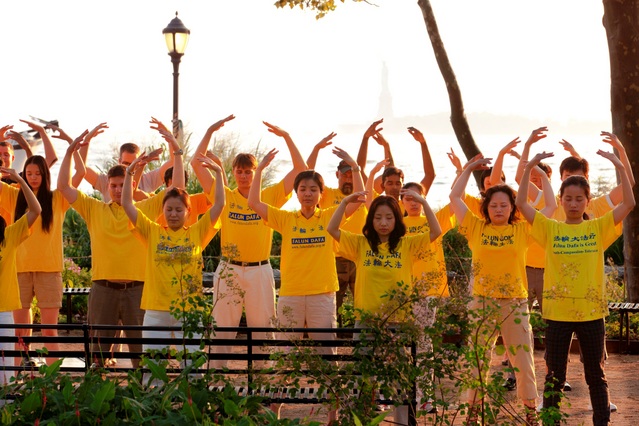 Nowadays
On May 13th every year Falun Gong practitioners all over the world organize public activities to celebrate the practice's public introduction.
Its activities have drawn more and more attention from the public and people all around the world.
And the contributions of the practice and its followers to the society have been largely recognized and commemorated by various states, congressmen and senators of the US, Canada, Australia, etc… Mayors have issued a proclamation designating May 13th 'Falun Dafa Day' in their local places.
From mainland China, despite the harsh conditions due to the ongoing persecution of Falun Gong, thousands of practitioners, persevering with their belief, bravely breaking through the internet censorship to send greeting cards to their Master in celebration of the World Falun Dafa Day.
All express their wish that the persecution of Falun Gong will soon come to an end, and the practice will soon be freely practiced in mainland China as it is in other places across the world.
Xem thêm: